Data Entry Tutorial – Guideline for Beginners!
Welcome to Data Entry Tutorial – Guideline for Beginners, and I know you're here because you're willing to start your freelancing journey with Data Entry, Web Research and Lead Generation (Prospecting) working field.
Well, you're in the right place to follow the instructions and learn from a well-experienced person in this field.
Here is my portfolio on a Freelance Marketplace to keep you motivated: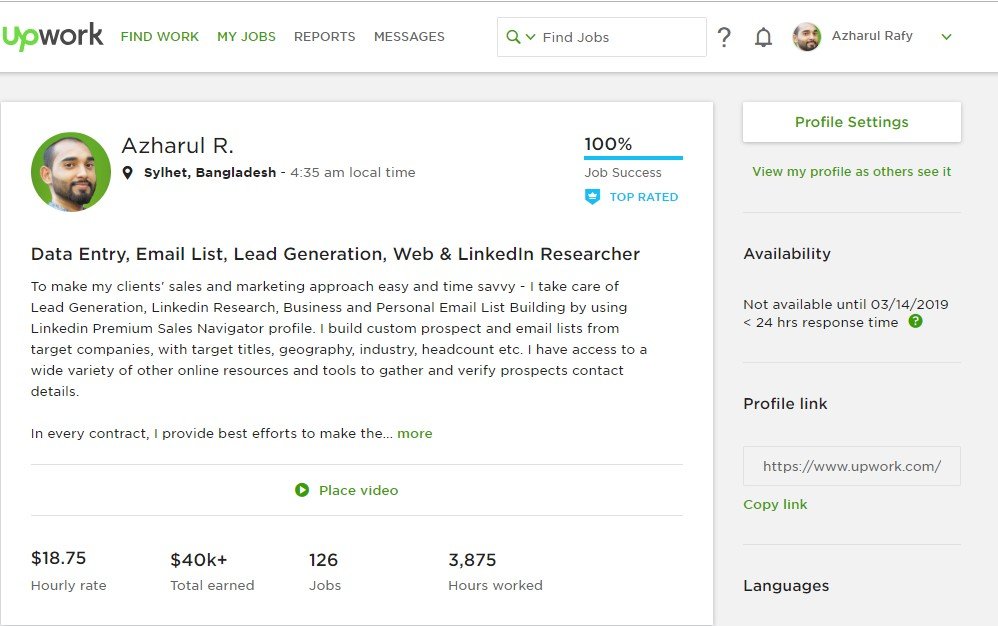 My Story of becoming a Data Entry Professional:
Before I share the resources, I would love to share a few key notes about my background in the online journey.
I am not from Computer Science background academically, not from English Medium School. I am studying with a BSS degree in a govt. college in Sylhet, Bangladesh.
When I was almost 18, I started finding ways to make money online in 2012 with little to no skill in hand.
As my English language ability was too poor, I wasn't even able to discover and learn things fast and have worked on many PTC websites (the worst way to waste valuable time) for a few months and finally on Jun 16th, 2013 I got my very first payment of $3.02 from NeoBux (a PTC site)!
Hey, don't worry, you're going to get help from me, so you will get success much faster than mine!
Maybe, you would be interested to see my very first payment details from the image below: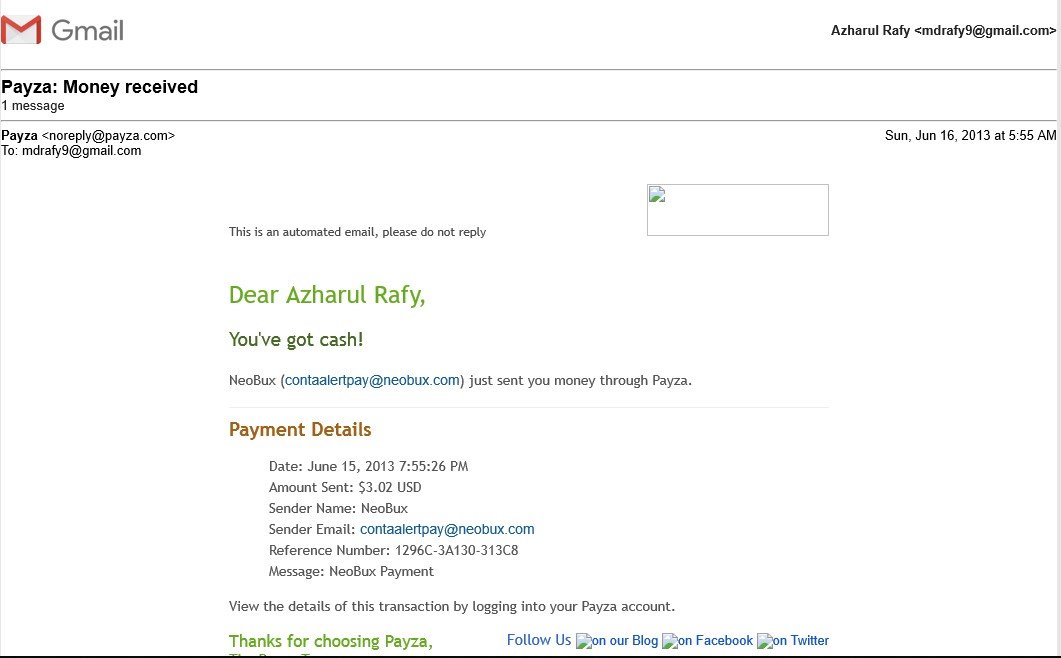 Yes, by spending almost ONE year, I earned $3.02 USD and by the grace of almighty and researching, I was able to learn about Upwrok (formerly oDesk), Elance, freelance marketplaces, and gained the pieces of knowledge that are still helping me!
How I got started professionally?
In one of the days of researching, I found a blog post which was about Freelance Data Entry Tutorial, and the respectful author wrote that- it is possible to earn money online if I get skills on Microsoft Office programs, so I started watching videos on YouTube and started reading more blogs.
Certainly, there weren't lots of tutorial videos available as we have now, and due to the poor internet connection in my area at that time, even it was very difficult to watch videos, but I managed to watch and read to learn.
I am thankful to all the video creators and the authors who shared their knowledge to help newbies.
I did learn basic usages of Microsoft Word and Microsoft Excel by following them and now I am being able to grind some of the money-making methods!
On January 12th, 2014, I created my profile on Upwork (formerly oDesk) with very basic skills on MS Word and MS Excel with an average typing speed of 35- 40 words per minute.
After setting the profile to 70% only – I made the very first bid (applied) on the second week.
As I mentioned before, the knowledge's I gained by working on small tasks- still helping me, and actually, these experiences helped me lot to write a cover letter accordingly to convince the client and got the first job on January, 25th 2014!.
Learn – how I write cover letters and apply on jobs from the following video:
After being hired – I was able to provide a great service to the client and was able to made him satisfied enough, so, he started providing me contracts repetitively as you can see from the image below: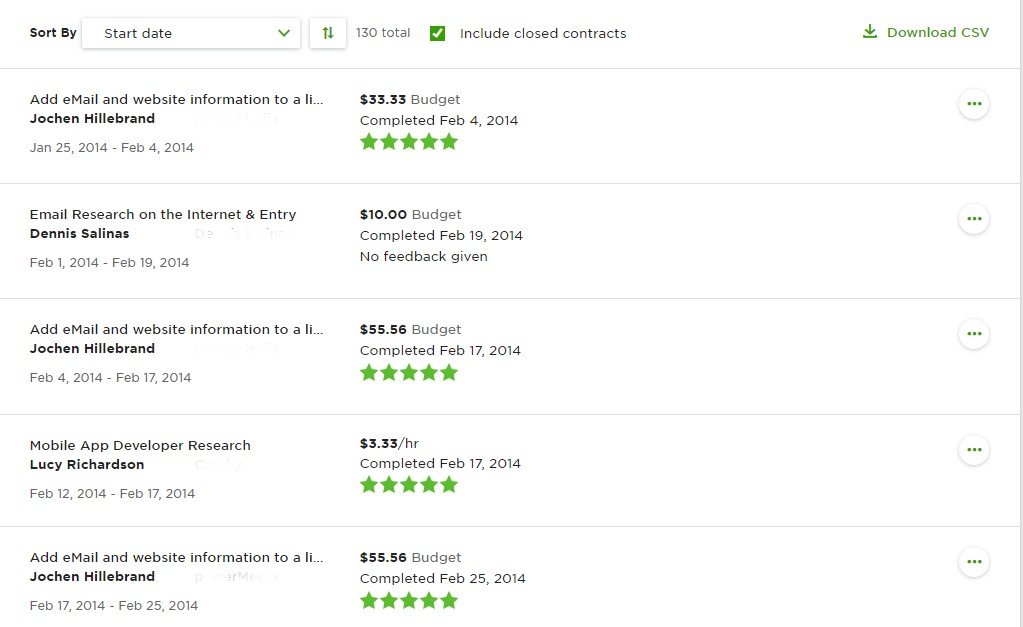 From January 25th – February 28th, 2014, I earned around $150 USD from easy Data Entry Jobs and that was the beginning.
Since then, I never had to look back!
As days passed by, I got much better with Data Entry, Web Research, and Lead Generation works.
I learned new skills, and raised my pay rate slowly from $3.33 to $18.75 USD per hour!
When I am writing this blog post for you – I have completed 126 jobs successfully only on Upwork.
I mostly work with companies and clients in direct contract, outside of any freelance marketplace now.
If you are curious- from the video below – you will get a good idea of the potential of Data Entry Jobs, and how much I made in a single year doing easy jobs on Upwork:
The more you will learn about the Data Entry jobs, the better you will become and the better your earnings will be.
I also got working experience with clients on Fiverr, which is another newbie-friendly and good freelance marketplace.
You will find more about my activities on Fiverr in some of the video tutorials added below!
So far – you have learned a little bit of me as your friend, but, no longer willing to make you bored with my story!
Even, if you are a complete beginner, if you take it seriously – it won't take more than 15 days to gather enough knowledge and skills to be ready to join marketplaces as a Data Entry Professional and to start finding jobs.
Let's Learn Data Entry:
Basically, in online Data Entry jobs, most – projects require entering information from one resource to another.
Sometimes, clients provide us with all the information in several specified resources.
A resource could be several offline files or online website links, and we as freelancers – have to put the requested information into one master project file.
The master file could be a Microsoft Excel, Word, or Google Spreadsheet – which is a valuable document for our future client/s.
Need more clarification?
From the video above, you will get a good idea bout Data Entry and the requirements to get started as a Data Entry professional.
IMPORTANT:
To get started with Data Entry, Web Research, and Lead Generation, first of all – you have to get a good idea about the jobs available in the market.
Learn as many skills as you can regarding data entry.
Then – you have to work on some practice projects to gain real-life experience and knowledge of the jobs.
Make a portfolio to show your future clients some of your previous works. It will increase the chance of becoming hired by a client.
Please don't create an account on any marketplace without getting the skills, otherwise! it will make your progress slower.
Please check out the videos below where I showed- the details of Data Entry jobs, a full project overview, and live works to help you:
Getting and Accepting a New Data Entry Job in Upwork, Full Process:
How to Work on a Data Entry Project in Upwork as a Freelancer and How Much You Can Earn:
Found these videos helpful? Interested to watch a few more Data Entry Live Example Videos?
You will find a few updated Data Entry project examples on my course published on Udemy.

I suggest you watch every single video to get a better idea of different project types, descriptions, pricing, working process, etc.
After completing watching the videos from the course, please check out the Upwork Data Entry jobs link to see what are relevant jobs currently available, and which jobs you can do.
Few jobs you will find have partial information, but at some point, you will find a complete job description with requirements added to the job post.
If you have found that you will be able to do the job, please do it as a practice and make it your portfolio.
Follow this step for 5 projects to make your efforts stronger in the Freelancing journey.
I believe you already did some portfolio projects for Data Entry jobs.
If not, please bookmark this post, or maybe you can share it on your Facebook to get back to the page easily when you're done with the portfolio.
So, now it's time to learn the other skill, which is Lead Generation, Lead Prospecting, or Email List building for clients by using several methods.
Let's Learn Lead Generation or Prospect Researching:
Well, Prospect List Building should be the name that is familiar as Lead Generation to most of us. Basically, clients provide us with basic information about their targeted people and or prospects and we collect their information by using Google, Linkedin, and by using some other online resources.
Please check out the videos below to understand the Lead Generation job overview, working processes, and more details:
Lead Generation Tutorial – How to find Leads on Linkedin and Find Emails – Upwork Live Project:
Find CEO's Email Addresses for Free – Find Anyone's Email Address
Found those videos helpful? Interested to watch a few more Lead Generation, Prospect Researching, and Email List Building Tutorials?
Please check out the Lead Generation, Email List Building Video playlist from my YouTube Channel.
You will find more videos on the Lead Generation Playlist, but to get started, it's not mandatory to watch them all, you can watch the first 3 videos to get the basic idea, and then as you need, you can watch the rest.
After watching the first 3 videos, create the required profiles, add essential extensions and try to collect a few leads from any industry by following the processes demonstrated.
After getting all things working nicely, you may look up relevant jobs on Upwork from the following link and try as I instructed in the Data Entry section above to build a portfolio.
Get Lead Generation Jobs in Upwork
Do some practice projects, and build some portfolios to showcase which will attract clients to reach you!
So now, you got the skills, you got the work experience and you got the portfolio. It's time to learn how to join Freelance Marketplaces properly.
Please check out the following videos to learn:
How To Setup a Profile on Fiverr and Make it Complete:
How to Create a Gig Properly to Get High Ranking on Fiverr Search Result to get orders fast:
As a New Seller in Fiverr, you will be able to add 7 gigs, please follow the instruction to create at least 5 gigs for the services you want to provide. And, then it's time to do some social media promotions.
Learn how to Promote your Gigs on Twitter – Exclusive Ways to Promote Your Service:
After working on some promotions, it's time to wait for at least 2 weeks to give the gig times to get discovered by the clients, and measure the Impressions, views, and clicks it's getting. If it gets better, you just need to wait for the orders, but if they are not reaching people, then you have to promote them for a few more days.
IF YOU FOLLOW THE INSTRUCTION PROPERLY, YOU WILL GET YOUR VERY FIRST JOB SOON.
So, within a couple of weeks, sooner or later, you will get orders, it's time to complete the work by following the client's instructions, and when you're done working on the project, time to make the delivery and as you know, getting positive reviews on your profile will lead you to get consistent orders.
From the video below, you will learn:-
How to Deliver Completed Work on Fiverr and Ask for Nice Review from Client
Well Done, you now completed the important parts of learning works, practicing, building portfolios, account setup, and gig set up, but, how will you get paid?
If you are living in a country where PayPal is available, you can get paid to PayPal which is really easy to integrate.
But if you need an alternative, you can use Payoneer as I do to get paid.
Please visit Payoneer and create an account by using all genuine information including your name, address, bank account details, and other information as you will see along the way.
After creating the profile, link it to your Upwork and Fiverr profile, and follow the instructions they will show to set them up properly.
After setting up all the things, and after working on projects, you will be able to make Payment Withdrawals by the following process on Fiverr, although the video attached is demonstrating the process on Upwork, the process is similar.
Well done, and congratulations on completing the Data Entry, Web Research, and Lead Generation training!
If you need any further help, or if you have got any questions, you can ask me by commenting under the videos and I will help you with the solutions for sure…
Please stay connected to get all the free videos and let's shine all together!
Best way to stay connected with me:
Thank you,
Azharul Rafy