Data Entry Sample Work for Beginners
Hi there, from this post you will find some information about online Data Entry jobs and some Data Entry work examples to review, analyze, learn, practice, and build your data entry portfolio.
You will receive an email that contains a page containing a few data entry sample work descriptions added with all instructions provided by clients directly from freelance marketplaces.
I have added all the sample data entry project examples from jobs posted by clients on Upwork, which is one of the largest, most popular freelancing platforms.
You will find similar online data entry jobs on Fiverr, Freelancer.com, and Peopleperhour freelance marketplaces.
After you receive the sample data entry instructions – you can take a look over the descriptions, and try to understand what the project was about, and what was clients need.
I would suggest you try working on the projects to see if you are capable of doing these types of data entry jobs or if you need to improve your skills.
If you try completing those data entry examples, you might be going to face some trouble doing them, then you might have to learn some new skills and you will gain real-life experience after all.
If you complete some of the sample works, it will be easier for you to understand the relevant jobs posted on freelance marketplaces afterward. You will have the courage and confidence to apply for suitable data entry jobs and start your freelancing journey.

Please provide your name, country name, and email in the form below and I will send you an email immediately which is containing all instructions and data entry sample works.
Please fill up the form below to receive the project examples
If you are a complete beginner and if you are interested to work as a Freelance Data Entry Operator, you will find some valuable information from the data entry video tutorial added below:
If you have got the curiosity to know – how much a freelance Data Entry service provider could earn? – I have got a video published a few years back where I shared all details of my earnings for one single year doing data entry jobs on Upwork!
Check out how I earned $23,402 USD in one year?
---
Now you got an overview of Data Entry jobs and their possibilities from my professional experience and scenario. What about learning from my student's success?
Check out the following image
My student received instruction from the client to collect data from an online resource and to put the requested data in a Google Spreadsheet for easy access to the client.
In less than 15 days, she earned $780 USD from two milestones!
And, now – she is doing great with her professional journey!
What about learning from another Top Rated Freelancer?
This guy I shared screenshots with below, is from Pakistan. He followed the lessons I published in the Data Entry Course for Beginners. He implemented the knowledge learned from the course, practiced on projects, tried on the marketplaces and he started getting clients on Upwork!
After earning his very first $600 from Upwork, he had to stop working due to some personal issues. But he came back around 8 months ago and reached his first $10,000 USD from Upwork!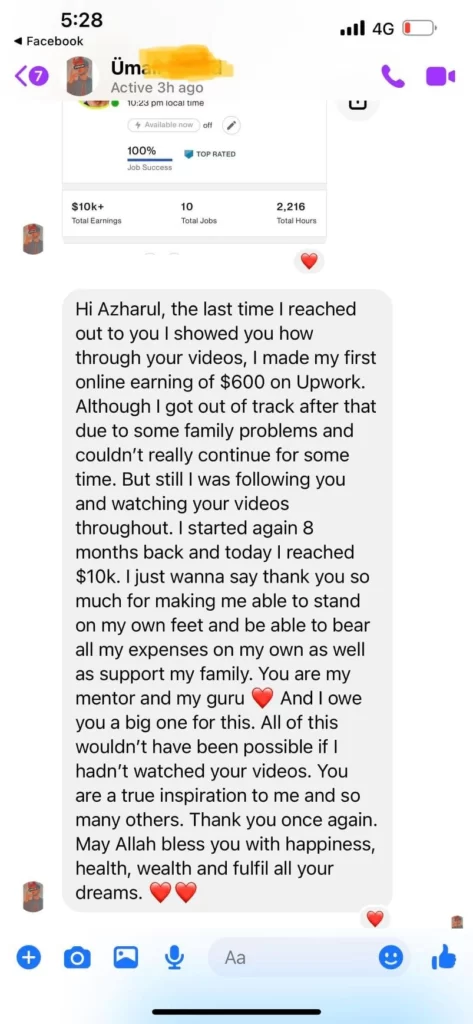 Not only them, but I have also listed a few other screenshots received from my students here at this link: STUDENT SUCCESS. You're most welcome to check them out.
To learn from the real Data Entry projects I have worked on with clients, please check out the Bestseller Data Entry Course for Beginners on Udemy.
You will find easy-to-understand step-by-step lessons to get a clear idea, an overview of Data Entry project types available on freelance marketplaces, how the client provides us instructions, and how we work on them.
YOU CAN JOIN THE COURSE AT A DISCOUNTED PRICE TODAY! – Check out the link and image below.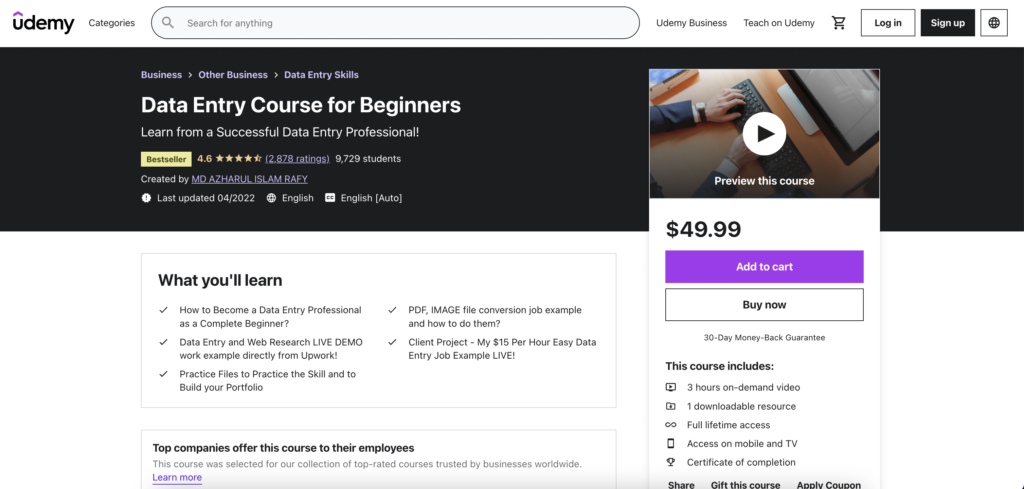 After watching the lessons of the course, you will have to practice a bit to gain real experience in Data Entry jobs and build your portfolio to use on your freelance profile, and to use while you apply for jobs.
Then, you have to set up a profile in the Freelance marketplace and start applying for jobs by following the process shown in one of the lessons of the course.
In the beginning, it will feel overwhelming, but as you will try on a few jobs, it will become clear and easier for you to apply for jobs on marketplaces.
As you will continuously apply for jobs on marketplaces, you will start receiving responses from clients. Some clients will take you to an interview to discuss the project and to learn more about your ability and experience before hiring.
Most of the interviews are conducted through messages, and some clients could ask you for a voice or video call.
And, yes, there are clients who hire freelancers without going through any interview process! In this case, they look at the cover letters carefully and if they find the proposal convincing, they send the job offer.
After being hired to complete a project, you have to complete the task, and deliver the project on time to the client through the message/delivery system of the respective marketplace.
Then, your clients will review your work, if they find all good with the project, they will approve it and the amount of project budget amount will be available to your account balance, which could be withdrawn on your PayPal, Payoneer, Wise, or Bank account.
Here is how to withdraw earnings from Upwork to Payoneer:
This is how you can withdraw your earnings from freelance marketplaces to your PayPal, Payoneer, Wise, or Bank Account easily.
That's it.
To get started, you need to learn the skills, practice to gain experience, and build a portfolio. Join marketplaces and start applying for jobs to get clients. Complete the task, and get paid!
So, I believe I was able to provide you with some helpful information regarding data entry jobs, and some data entry project samples – which you will find helpful.
If you find this post helpful, please SHARE!
All the best,
Azharul Rafy