To start freelancing as a beginner – at the very beginning, you need to learn some skills which has demand on marketplaces. Then you have to practice on demo projects to gain real experience on any specific subject.
When you will have knowledge, skills and some experience on a chosen subject – you have to join Freelance Marketplaces – such as Fiverr, Upwork, etc. to find job posts, apply on them, and get hired by clients.
The process is as simple as it is described above, but it takes a lot of patience to learn, lots of experimentations – implementation, and lots of practice to become job ready!
You might going to get success faster than others, but an important information you need to keep in mind – even if you have learned any skill so well, you might have to wait a long time to get your first order in reality!
In my connections of freelancers- I have seen many peoples who got their first job after trying over 6 months, and I also know many peoples who got their first job as a freelancer in the very first month of joining in freelance marketplaces.
So, the first element is YOUR PATIENCE!
How to Start Freelancing:
There are many job categories in freelancing you can choose and move with.
You can start freelancing as a Web Developer, Graphic Designer, Video Editor, Digital Marketer, Software Engineer, and there are many other options to choose from.
You can start your freelancing journey by learning any skill that has demand in the marketplaces. You can learn any chosen skill for free on Skillshare for free for the first month.
---
Star freelancing as a Virtual Assistant:
I have been providing Virtual Assistant services to clients as a freelancer since 2012. I help clients with Data Entry, and Admin Support tasks through Upwork, Fiverr, and on private contracts.
So here I can give you some getting started guideline as a Data Entry Operator…
To get started as a Freelance Data Entry service provider, at the very first stage- you need to have some knowledge and idea about Data Entry project types available on Freelance marketplaces.
You can visit Upwork's job post section and find data entry job posts to see – what clients are looking for through their job postings?
Simply visit Upwork, chose "Jobs" in the search filter, type Data Entry and hit enter button from your keyboard!
Following quick video has the demonstration:
Not only on Upwork, you can follow the same process on Fiverr and Freelancer.com to get a good idea on data entry project types.
Please check out the shot video added below, you will learn the process to find – what are the data entry works peoples are providing as freelancer on Fiverr and making money!
So, now you know how to find job posts on Upwork or Fiverr. It's time to do some demo data entry works to gain real experience.
You can join my best seller Data Entry Course for Beginners on Udemy to get a clear overview and guidelines on Data Entry jobs.
After having knowledge and experience about the jobs, you should learn about the freelance marketplace rules, community guidelines, process to start working, process to get paid etc.
Then you have to maintain marketplace guidelines, join and find relevant jobs, then either apply on
the jobs or create gigs to showcase your skill, experience to clients considiration.
This way, client's will start noticing and responding to your proposals on Upwork, or client's will reach out to you with their needs through gigs on Fiverr – if all goes well with mutual agreement, they will hire you or place an order for you to complete the work.
This is how Freelancing works basically.
The hardest and the most important part is to learn the process, build your skills, and gaining experience.
When you will have skills – you will gain success as long as you keep trying your best.
You can learn more about Data Entry Jobs from my Bestseller Data Entry Course for Beginners on Udemy!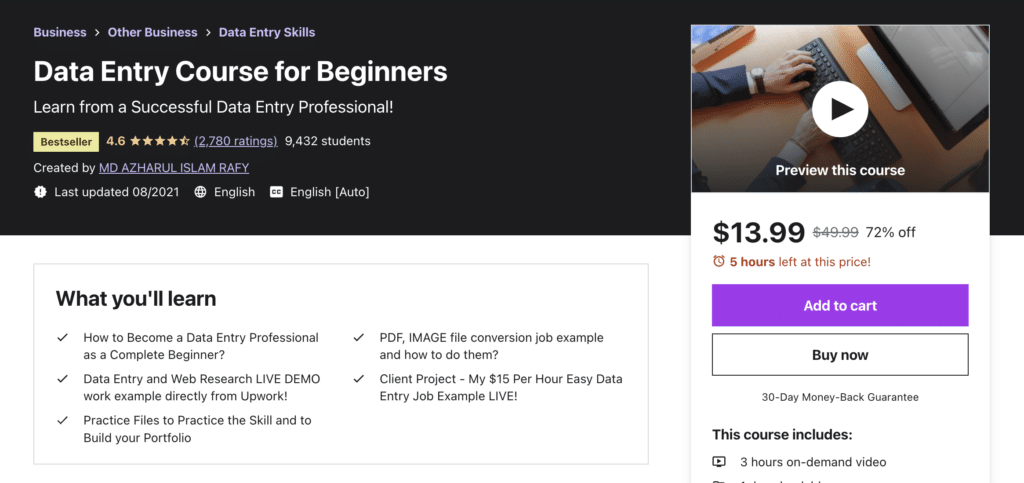 Why should you join this Data Entry Course?
This is a very beginner friendly Data Entry Course, and I am the course instructor. If you don't know my professional background yet – I am a Top Rated Freelance Data Entry service provider on Upwork, and successful seller on Fiverr.
Please take a look at the first intro video of the course by clicking on the image, and you will get a brief overview of my freelance portfolio 🙂
The course is for complete beginners who has the interest to start Freelancing with Data Entry jobs – so if you are one aspiring to start – I would recommend you to join the course and start learning from the video lessons.
When I am writing this post, the course has over 1050 5 STAR REVIEWS on UDEMY!
Here I have got a few for your to take an instant look:
Anywas, let me answer a frequently asked question now!
What is the best marketplace for beginners to start from?
Fiverr! – the shortest and complete answer!
After learning about the Data Entry Jobs, I would suggest you to watch videos on how to get started, how to make a freelance seller profile on Fiverr, how to setup a gig and make money on Fiverr from the following videos:
How to Make Profile on Fiverr | Step by Step?
From the video above, you will be able to learn – how to create and setup freelance seller account on Fiverr for free. You will get a clear overview, tips on setting up your Fiverr freelance seller account from the scratch.
After creating your seller profile on Fiverr, you have to create gigs to showcase your professional expertise or the services you want to provide as a freelancer!
To start creating a gig, you need an image to use as gig thumbnail, so potential clients could have some idea on the services you provide by just even looking on the thumbnail at a glance!
So… how can you create a beautiful, attractive thumbnail image for your gig?
If you don't have graphic design skills, in common sense – it is a pain to create a thumbnail image for your gig!
But, in our case – we are going to use a free Graphic Design platform named Canva, where we can setup an account for free and then we will be able to design beautiful image for our gig thumbnails.
From the video tutorial above, you will be able to learn the step by step process to use the free tool to design beautiful images and how to download the images to use for your purpose.
Now, we have got gig/service idea, we have got the images to use and it's time to Setup a GIG on Fiverr properly – so that clients are going to find us on the platform.
From the video above, you will get a step by step lesson to organize a complete GIG, you will learn what to consider, how to make it SEO friendly – so that your clients are going to find you easily on Fiverr.
After publishing your gig on Fiverr by following the live example demonstrated on the video above, you have to stay active on Fiverr.
Stay online as long as possible everyday, learn more about Fiverr and when you receive any message from your potential client – try to respond as fast as possible.
Client's love fast responses and professional communication skills – when they choose a Freelancer for their project.
Now, let's learn –
How to send effective buyer request to get orders on Fiverr?
How Can you Get Order on Fiverr Faster?
How to Deliver a Completed Project to Your Client on Fiverr? and
How Fiverr Review process works?
from the Step by Step Fiverr Tutorials available on my YouTube channel!
Check them out, be attentive and learn the valuable lessons to become successful.
So, here you have got a complete instruction, information, resource and guideline to follow and learn from.
It is the time for you to take action, learn, implement and get results.
Many of my students are already successful, many of them are TOP RATED freelancers on Upwork and doing great on Fiverr. 😊😍
If you are determined and dedicated – why shouldn't you become a successful freelancer when you have all the resources available?
And, the end – I have got two questions to ask you?
Did you get some good information from this blog post? – please let me know by commenting below.
Do you think you found a resource you can follow to make it happen?
Do you have any questions for me? – please ask me by commenting below.
Are you taking actions to get success?
Are you trying your best go get success?
Are you doing the best, again are you doing your best?
So, this was it from my side now, please don't forget to SHARE this post if you have found it helpful and TAKE ACTION!
Bests,
Azharul
Contact me on Instagram