How to Become a Virtual Assistant?
Hi, this is Azharul Rafy, a professional Virtual Assistant, providing services to clients since 2012. Throughout this post – I am going to help you with some valuable information on – how to become a Virtual Assistant.
Before I forward on putting a lot of texts for you, I would love to show you my Freelance profile as a Virtual Assistant on Upwork.
I believe the image will help you stay attentive and to motivate you to read this post till the end!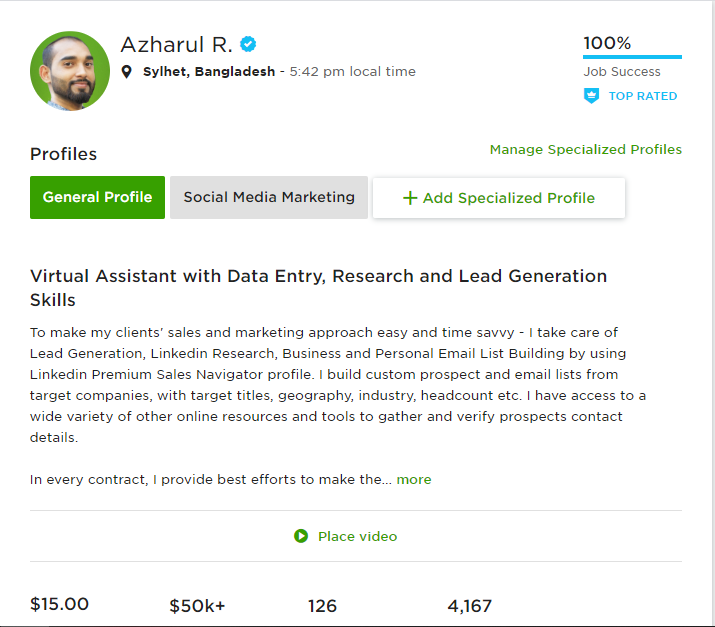 I am going to share the information from my practical experience working as a Virtual Assistant and from the research, I have done for you.
I believe this post is going to be highly valued and informational when you are interested to become a Professional Virtual Assistant and working as a freelancer! so – let's move on…
Well, the first thing I would love to talk about is the background of your potential clients:
A. Who Hires a Virtual Assistant and Why?
B. What are some of the job types a client delegates to Virtual Assistants?
After answering the questions – I will give you my guidance on, how you can become a Virtual Assistant as a Beginner.
Without further ado, let me start by giving you a basic idea of the background of your potential clients below.
A. Who hires Virtual Assistants and Why?
Business owners, entrepreneurs, bloggers, or people who have a lot of valuable work to do other than managing their minor tasks – usually hire a VA.
They free up some of their valuable time by delegating their less valued and time-consuming tasks to their Virtual Assistants.
B. What are some of the tasks usually clients delegate to their virtual assistants?
Here, you will learn about 6 types of high-demanding tasks, that a client delegates to a Virtual Assistant:
1. Calendar Management and Scheduling:
A client could hire you as a Virtual Assistant to manage their calendar and add dates and times for a specific occasion or things to do. Schedule and add a meeting time with any contact, set up an appointment with doctors, etc.
Calendar management and scheduling jobs are about managing why, when, where, and or with whom a client should spend their time?!
You have to list all the information and remind the client of important upcoming schedules and timing when needed.
Clients prefer to use a scheduling tool, such as Google Calendar.
Please, check out a Virtual Admin Assistant job example from Upwork- where the client is asking for an experienced Google Calendar Manager or Scheduler!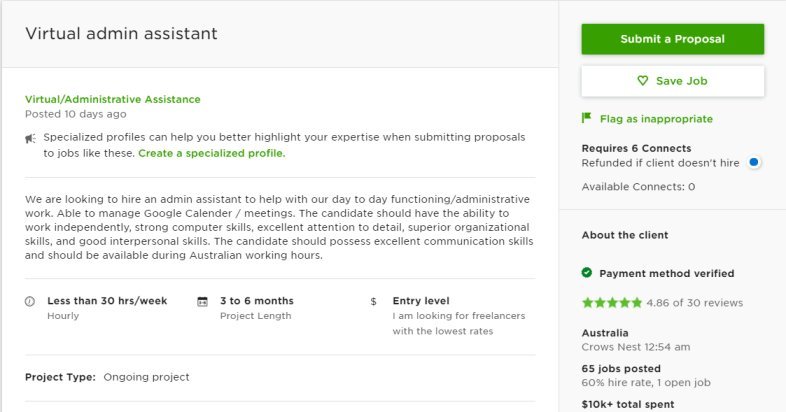 You can learn about Google calender management from Skillshare for FREE.
Skillshare is an online learning platform – from where you will be able to learn all the skills required to become a Virtual Assistant.
2. Data Entry and Document Management:
As business owners and entrepreneurs are our clients, they need a lot of documents to be created and managed to operate their businesses and manage contacts on the go.
As they are busy people – they hire Virtual Assistants to rename, create, organize, format, or stylize different documents on Microsoft Word, Excel, PowerPoint, or Google Docs, etc.
Sometimes – a client could have a document created already. They will share the file with you via Email, Dropbox, Google Docs, etc.
you have to make requested changes, add or remove information by following their instructions and send the file back to them.
Please check out two Data Entry work examples as a Virtual Assistant from the images below: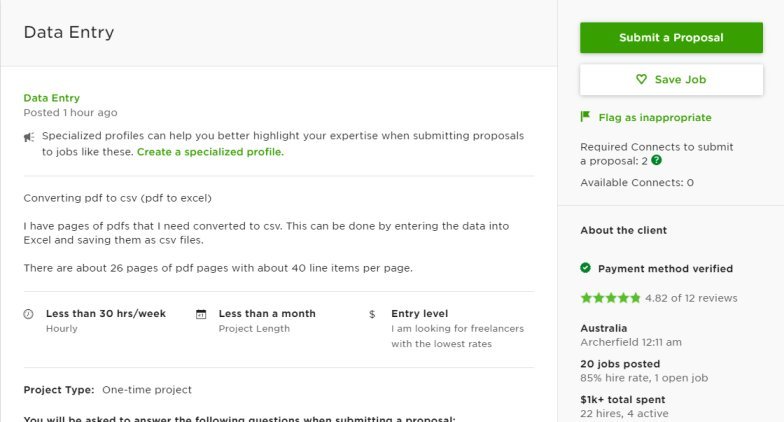 The project above is about converting information from PDF files to Microsoft Excel in CSV format. Easy Job to do!
Please check out another job example that you can do as a Virtual Assistant!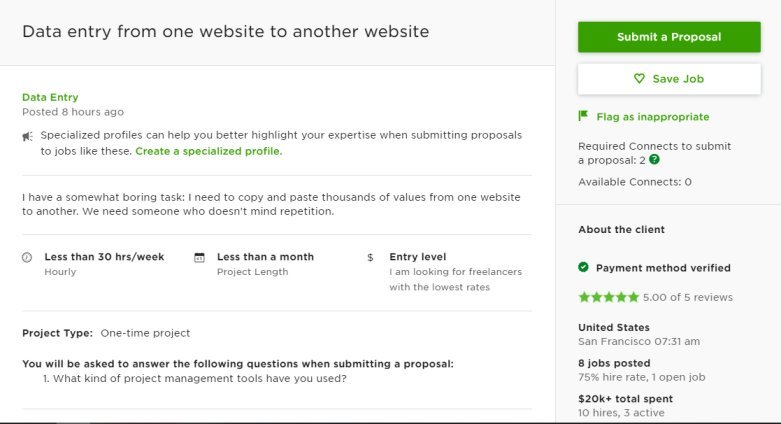 You can learn easy Data Entry skills by watching step-by-step videos I have uploaded on my YouTube Channel and from other online resources such as Udemy (my course), and Skillshare online learning platforms.
3. Web Researching:
Let's say – your client doesn't want to miss any event information of a specific topic, type, and from a specific location this year.
S/He will share the details, and you will have to find out all the information like – the event name, the place where it is going to be held on, time, speakers, organizers, pricing, any special note, etc, and list them in an Excel spreadsheet.
This is just an example and there are lots of other easy research tasks that a client will delegate to you.
4. Email Handling & Management:
Email is an important medium for communicating online and it is a crucial aspect of any business.
As a business person, many people receive hundreds of emails in a day!
From hundreds of wanted and unwanted emails, reading those emails, filtering out the important ones, and responding to them – took lots of energy! and it is a real time-consuming hassle!
Sometimes, email cause distractions from any focused task, which makes less productivity for a client!
To get rid of these stresses, your client could hire you to manage their email to save some of their valuable time!
They could delegate tasks to an Email Handling Virtual Assistant like:
1. Your client could hire you for creating filters, and labels for specific terms.
2. Read and Mark emails as important based on the instruction, some clients hire virtual assistants to read emails, and find and take notes of specific information from the emails as well.
3. As a Virtual Assistant, your responsibility could be to forward and keep notes of all transactional and important emails
4. Mark Spam Emails and Unsubscribe from unwanted senders.
5. Send pre-written emails to repetitive questions that your client receives from his/her customers or followers!
So, those are the most delegated tasks to Email Handling and Management professionals by clients.
To work as an Email Handler, you need good English skills and you need knowledge, and experience with email tools and platforms such as Gmail, Outlook, Yahoo emails, etc.
5. Travelling and Reservation Booking:
Suppose a busy businessman has a plan to travel to a place next month. Though, traveling is fun, but, gathering all the information regarding the attractions, nearby restaurants, transportation, and pricing could be a headache for the client.
In this case – clients could hire you as their virtual assistant to manage all the research and travel arrangements. Which includes booking a room in a hotel, booking a table in a restaurant, etc.
You just need a basic knowledge of using the internet for this task. But, high attention is required to hold the role, a small mistake could lead to a big impact on your client's tour!
We could use websites such as Booking.com to find the best hotels, and restaurants in a destination.
6. Social Media and Customer Support Management:
Not only for a person but you can also be hired as a Virtual Assistant to manage companies' social media profiles and pages – such as – Facebook business pages, Instagram pages, etc.
A client could hire you to build a strategy, schedule posts, make and respond to comments, answer messages, etc.
Most client provides us with all the content, images, or videos to use on their social media profiles.
You have to publish or schedule the posts accordingly by following the time steps and by following all other instructions they will provide.
Please check out a live project example of a Social Media Manager from the image below: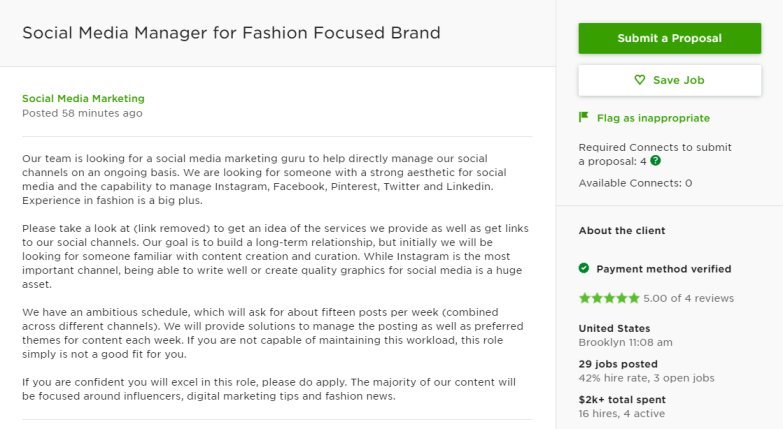 If you could learn about some Social Media scheduling tools – such as Hootsuite, Buffer, etc, it will help you manage multiple social media accounts from one single platform.
It will save you time and clients will keep you on choice upon hiring a social media manager for their pages or profiles!
So, please learn about these tools. You can find courses from Skillshare to learn more about social media tools and procedures as well.
Regarding customer support and responding to comments and messages: businesses mostly receive the same types of repetitive questions from their followers or potential customers.
In this case – they provide their VA's few pre-written answers to send with required little modifications.
Attention to detail is the key requirement for a Social Media Manager or Customer support professional.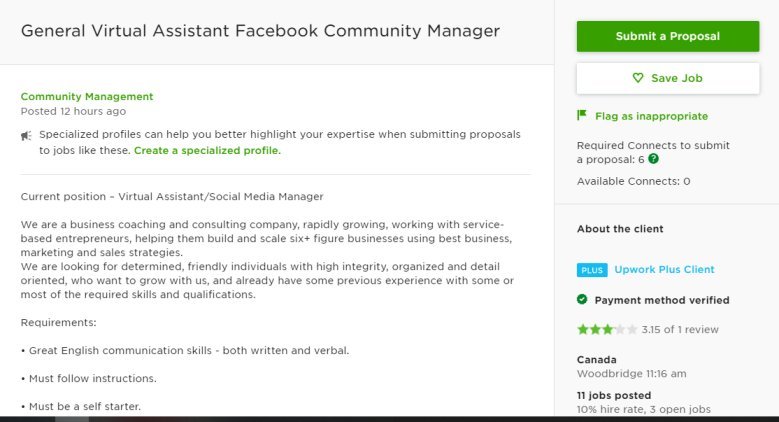 So – those are easy but, some of the highly demanding Virtual Assistant tasks – let me list the position names again:
1. Calendar Management and Scheduling
2. Data Entry and Document Management
3. Web Researching
4. Email Handling & Management
5. Travelling and Reservation Booking
6. Social Media and Customer Support Management
All right, now you know about some of the highly demanding jobs you can do as a Virtual Assistant.
It's time to give you my guideline on – how you can get started and Become a Virtual Assistant as a beginner.
First of all, you can select any one or multiple positions mentioned above. Then get more information about the jobs by reading blogs and by watching videos online.
The goal is to learn the ins and outs of the tasks. Then find out what are the skills you already know about the job, and what are the skills you need to learn.
Take notes, and start finding video lessons on YouTube, Udemy, and Skillshare learning platforms to develop your knowledge and skills.
After getting the knowledge – implement them to practice.
If you realize- you're doing great and if you feel like – you will be able to handle the task for your clients, CONGRATULATIONS!
It's time to join freelance marketplaces such as – Upwork.com, Fiverr.com, and Freelancer.com.
Create a stunning profile by describing your knowledge and experience.
You can also use social media sites such as Facebook and Linkedin to find clients as well.
Start finding and applying for jobs.
In the beginning, it might be going to take some time to get your first client.
But, after having one – if you keep them satisfied with good results, and get a good review, you will start getting more projects!
So, that's it, guys.
I hope you have found this blog informative and helpful. If yes – please share this post to help others.
Here is the video on – How to Become a Virtual Assistant:
Please let me know your opinion by commenting below.
I hope to see your success.
Thank you!
Azharul Rafy