What makes Systeme.io Wins Over ClickFunnels: Free Features, Blogging, Email Marketing, and Course Hosting Unveiled
ClickFunnels and Systeme.io are comprehensive online platforms designed to streamline marketing strategies by facilitating the creation, management, and optimization of sales funnels.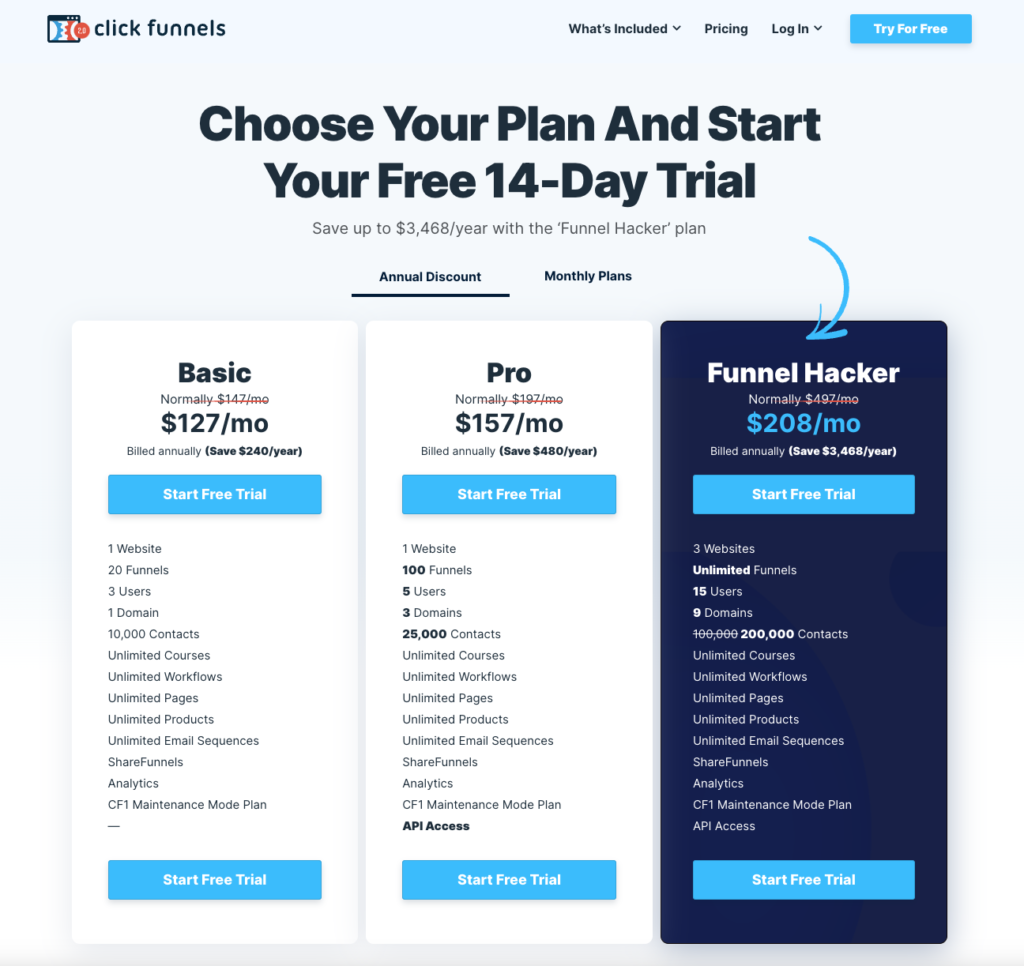 ClickFunnels is a robust sales funnel software known for its user-friendly interface and all-in-one approach. Created by Russell Brunson, it enables users to design, build, and manage sales funnels without coding, offering features like funnel templates, landing pages, email integration, and order forms.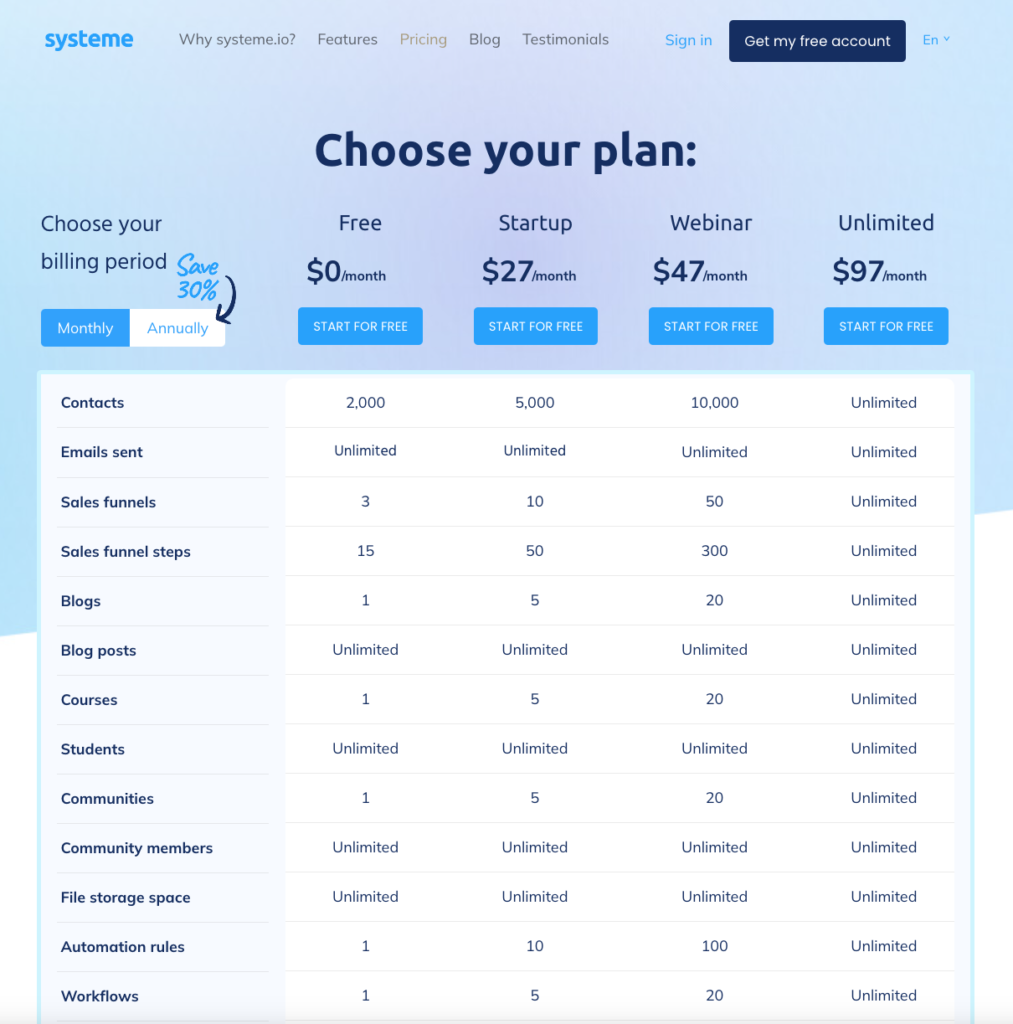 Systeme.io, developed by Aurélien Amacker, is an all-in-one marketing platform offering a cost-effective alternative. It provides tools for building sales funnels, email marketing, automation, blogging, and free hosting for online courses. Known for its simplicity, intuitive interface, and additional features like blogging and free course hosting.
Both platforms assist businesses in optimizing marketing efforts, but the choice between ClickFunnels and Systeme.io often depends on specific business needs, budget considerations, and the desired functionalities required for an effective marketing strategy.
In the realm of crafting seamless marketing strategies, the choice of a platform can make or break your success. ClickFunnels and Systeme.io stand as titans in this space, offering a wealth of tools to build, manage, and optimize your sales funnels. While ClickFunnels has established its prominence, Systeme.io emerges as a compelling alternative, armed with several distinct advantages that can truly transform your marketing game.
1. Comprehensive Features without Breaking the Bank
Let's talk about the elephant in the room: cost. Systeme.io boasts an extensive set of tools comparable to ClickFunnels but at a significantly lower price point. From sales funnel creation to email marketing, automation, blogging, and free hosting for online courses, Systeme.io presents a cost-effective yet powerful solution for businesses and entrepreneurs looking to optimize their marketing strategies without burning through their budgets.
2. User-Friendly Interface and Versatility
One of the standout features of Systeme.io is its user-friendly interface, catering to both beginners and seasoned marketers. Its intuitive design and drag-and-drop functionality make building and customizing funnels a breeze, making it an ideal choice for those who seek simplicity without sacrificing essential features. ClickFunnels, while robust, might be slightly overwhelming for newcomers.
3. Free Hosting for Online Courses
A significant advantage unique to Systeme.io is its provision of free hosting for online courses. This feature is a game-changer for educators, professionals, and entrepreneurs seeking to share knowledge and monetize their expertise. ClickFunnels does not provide such inclusive free hosting capabilities.
4. Robust Email Marketing and Automation
Systeme.io's email marketing tools are as robust as ClickFunnels', offering responsive templates, powerful workflows, and automation capabilities, but at a fraction of the cost. This affordability makes it an attractive option for businesses looking to harness the power of email marketing without breaking the bank.
5. Seamless Integration of Blogging
For those who value content marketing, Systeme.io seamlessly integrates a powerful blogging feature into its platform. This versatility is a unique selling point not found within ClickFunnels, making Systeme.io a more comprehensive option for those keen on incorporating content marketing within their strategies.
The Bottom Line: Why Systeme.io is the Superior Choice
When it comes to choosing between ClickFunnels and Systeme.io, it ultimately boils down to identifying the ideal fit for your business needs. Systeme.io offers a compelling package with its affordability, comprehensive features, user-friendly interface, free hosting for courses, and seamless integration of blogging, making it a standout choice for businesses seeking a cost-effective, all-in-one marketing solution.
In conclusion, while ClickFunnels undoubtedly offers robust tools, Systeme.io's affordability and diverse range of features position it as the prime choice for those aiming to maximize efficiency without a substantial financial investment.
Embrace the Power of Systeme.io
If you're looking for a comprehensive, cost-effective solution that seamlessly integrates sales funnels, email marketing, blogging, and free hosting for courses, Systeme.io might just be the game-changer you've been seeking. Dive in and experience the difference for yourself!
Would you like to use Systeme.io to its fullest potential? Now is the time to switch to a solution that not only improves your sales funnels but also makes writing, email marketing, and free course hosting easy to use together. Systeme.io is the big deal you've been looking for.