How to Work in Data Entry with EXAMPLE
Although Data Entry jobs are mostly easy to do, but, if you have never worked on a data entry job, it could be a bit confusing to understand the concept in the beginning.
No worries, this post will help you understand How to Work in Data Entry with a real example from a project I have done on the Fiverr freelance marketplace.
As a Data Entry Operator myself, I had the opportunities to work with over 150+ clients worldwide and provide Data Entry services to help them.
I find most of the Data Entry service-based clients from freelance marketplaces named Upwork and Fiverr.
Here is how the process works on the marketplaces:
Clients posts jobs by sharing details on what they need on Upwork and along with other freelancers, I also apply for the jobs. And, if a client finds my proposal convincing to their needs – they discuss more of the projects through messages and hire me for both short-term and long-term projects.
On the other hand, on Fiverr, I create gigs by sharing all the service lists which I am going to help clients with. And, when a client search for the relevant service on Fiverr, my gigs start showing up along with other sellers' relevant gigs.
If a client finds my gig-image and title attractive – they open the gig, read the details, and if they find all is good to proceed – they send me a message to discuss more of the project and place orders by sharing all the details of the project need.
After receiving the orders on Fiverr or being hired on Upwork, and after getting all the details of the project, I start working on it to complete and deliver the project before the timeline.
Then clients have the option to review the works sent by me, they look through the works and if they find everything fine, they approve the delivery and we receive the money in the Upwork or Fiverr balance in a few days. And, then we can transfer money to our Bank, Wise, PayPal, or Payoneer accounts.
That's the process basically.
Let's talk about How to Work in Data Entry with the Example below.
I am going to share the full details of the very first Data Entry job I worked on Fiverr, which was about typing information from three PDFs into three editable Microsoft Word documents.
Combining the three PDF files, I had to type out 5 pages in total in Microsoft Word to earn $5 USD. But after the market fee, I received $4 USD in my balance.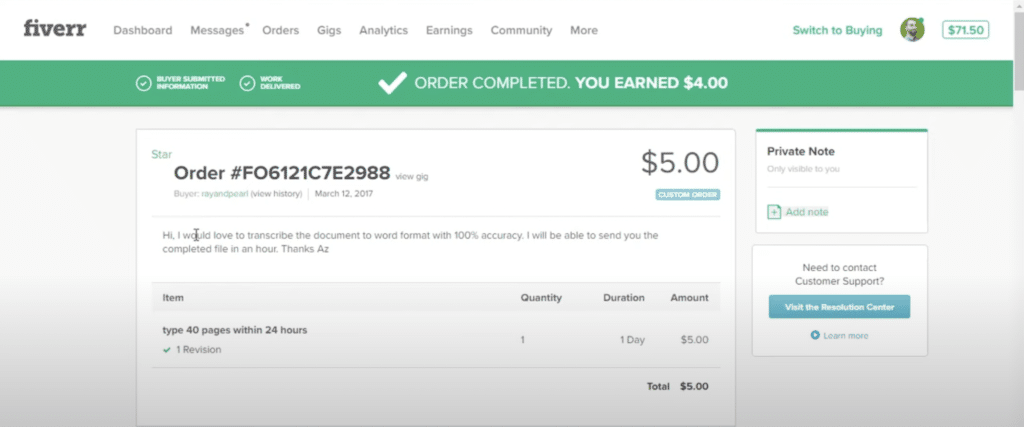 As I was pretty new to Data Entry Data Conversion Jobs back then, I typed out all the information, which took time.
But, I wish I knew about the OCRs, and PDF converter tools available out there to convert files to editable Microsoft Word and Excel documents automatically, and it would have saved me whole long work hours!
Here is the first PDF file that was provided by the client:
And here is the second PDF file that the client provided me to convert:
And, there was another file containing numbers written on it. I lost the file, otherwise, I would add it here for your view.
Anyways, after receiving the instructions and files from the client, I typed out the information, and here are the files that I sent to my clients as delivery.
PDF 1 Converted into Microsoft Word Document
PDF 2 Converted into Microsoft Word Document
Now, you might be going to ask, how did you type out and formatted the documents in Microsoft Word document?
I have made a video on this and published it on my youtube channel, you can check it out here:
It got thousands of views from people worldwide and they found it helpful. I am sure you will love this too.
More data entry project samples are available here – if you would love to practice in case.
Feel free to ask me if you have got questions.
All the best,
Azharul