How to Work in Data Entry with Example
Data entry jobs are the easiest to work online and to start your career with. However, having an idea of how to work in data entry with examples would help you advance your career in the field. To help you get a clear overview, in this blog post, I am going to explain how to work in data entry with an example – a project I completed on Fiverr for one of my clients.
As a freelance virtual assistant and data entry operator myself, I had opportunities to work with over 150 freelance clients worldwide and provided them with my assistance with data entry services. I found most of the jobs and clients from freelance marketplaces, mostly from Upwork and Fiverr.
If you are interested to learn about the marketplaces, I have added some information at the bottom of the post. So, without further ado, let's move on with our topic.
How to Work in Data Entry with Example
The data entry job example I am going to share with you, was the very first data entry job I worked for a client on Fiverr freelance marketplace. It was a project about typing and transferring information from three PDF files into three Microsoft Word documents, which clients should be able to edit and update the information as they need in the future.
As it was my very first job on the Fiverr marketplace, I didn't think about the budget of the project. I needed the starter review, which would help me land more relevant freelance jobs in the marketplace. So, combining all three PDF files, I had to type out 5 pages in total in Microsoft Word to earn $5 USD. And after the market fee, I actually earned $4 USD by completing the project.
I was happy, I had a fantastic five-star rating and a good review from the client which essentially helped me gain more clients later.
Please check out the actual job details of the project from the image below: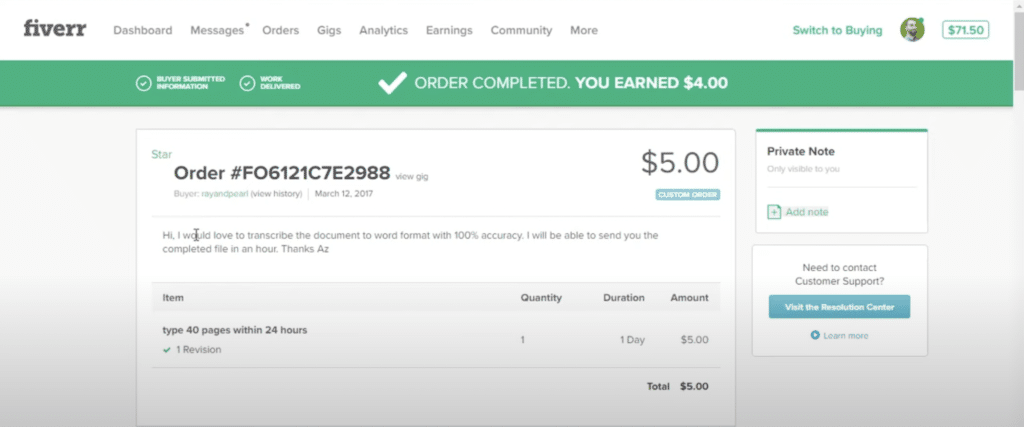 Due to the lack of knowledge in automation in file conversion, I typed all the documents manually. If I was doing this today, I would complete the task in less than 10 minutes!
I wish I knew about the OCRs, and PDF converters available out there to convert PDF files to Microsoft Word and Excel automatically. It would have saved me a whole long valuable time!
So, let's see the PDF files, that were given by the client, and then I will add a video explaining – how I have worked on them practically.
Data Entry Porject Example – First PDF File:
This is the exact PDF file that was provided to me by the client for the data entry project. I had to type this out on a Microsoft Word document by keeping all the formats as it is looking into the original PDF file.
If you would love to download the PDF file and practice working on it, I have added the download link below.
Data Entry Project Example – Second PDF File:
The following file was the second one that was given by the client for conversion. Same as the previous one, I typed it out in a Word document and then delivered it to the client. This file was comparatively easy for me to format than the previous one as in ti containing some headings, and bullet points within the paragraph.
I have added the download link for this project too for you, in case you are interested to try it out.
Data Entry Project Example – Third PDF File:
The third PDF file was containing lots of numbers on it with some mathematical signs added. I typed that as well for the client. Sorry, I lost the file somehow, otherwise, I would add it here for your view.
Exact work that I delivered to the client
After receiving the instructions and files from the client, I typed out all the information into two different Microsoft Word files, and after doing all the formatting, and checkups, I delivered the files to the client through the freelance marketplace.
Check out the following, these are the exact files that I delivered to the client, which you can download and take a look for yourself.
How to Work in Data Entry with Example?
If you have checked out the data entry example files above, you should already have got an understanding of what is to do, and what to be done. Maybe, now you are going to ask me – can you please show me how did you work on the project exactly with a live example?
My answer is – yes, I have recorded and uploaded a video about this on my YouTube channel, which has already helped over 170,000 viewers from around the world. I have added the video below for you too. Just check it out, and don't forget to share your feedback on this.
After knowing all this information and learning how to work in data entry with example, if you are interested to start your career in the data entry field, and if you need more help, I would love to see you in my Bestseller Data Entry Course for Beginners on Udemy.
It is a pre-recorded and around 4 hours long course. With one-time enrollment, you will get access to the course for a lifetime, and you will be able to watch the lessons at your convenient time. For your information, the course is full of a few more client-based data entry project examples – which I have completed for freelance clients throughout my freelancing journey.
I would recommend you read: The Ultimate Guide to Freelancing: How to Build a Successful Freelance Business from Scratch
Feel free to ask me if you have got questions.
All the best,
Azharul